EVOBOX

home karaoke system
The basic equipment of the karaoke system: the best hits, unique effects, the ability to connect two microphones.
Free shipping
Collect on delivery
A 12-month warranty
Songs for any taste and mood
2000
Pre-installed 2,000 songs in the karaoke system :
1,500 international and 500 foreign.
+100
После активации системы у вас есть возможность в течение 90 дней загрузить бесплатно еще 100 любых песен из всего караоке-каталога Studio Evolution.
You can also purchase any other songs from the full karaoke catalog* of Studio Evolution for a single price.
The Studio Evolution catalog is updated every week and includes 80,000+ songs in fourteen languages.
Legal karaoke content
We cooperate with the leading publishers and record companies of CIS and Europe.
List of copyright holders
4K Karaoke
Thanks to HDMI 2.0 standard, you can enjoy the most clear, contrast and saturated image on your TV screen.
Absolutely noiseless operation
Thanks to the passive cooling system and SSD-drive, EVOBOX does not overheat and works completely noiselessly.
Extraterrestrial device body
Top part of the EVOBOX housing is made of aircraft-grade aluminum, a special alloy used in aircraft and space engineering.
The aluminum part of the device is milled out from a solid bar of metal. The process lasts about 18 hours.
After milling, the housing goes through an anodizing process - EVOBOX gets its color with a special sheen and an oxide film that protects it from scratches.
Your favorite color karaoke kit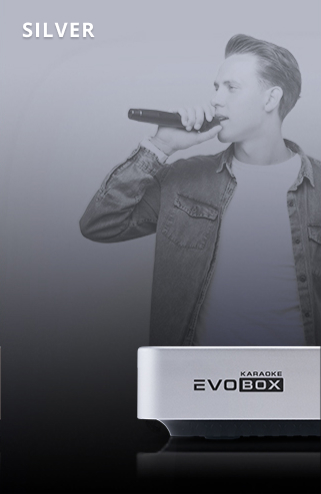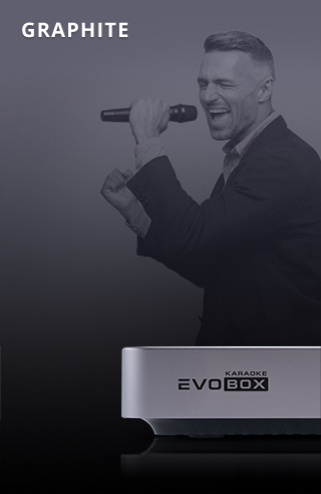 Feel like you are on the stage during the live show, with thousands of your fans applauding and singing along with you.
LiveFX karaoke
We created a brand new karaoke effect for singers. LiveFX designed for each track individually to deliver the presence effect and performance environment.
Listen to LiveFX
Share your performances
Record your performances in studio quality by pressing just one button. You can copy the records you saved to a USB drive or send them to your friends and family instantly from your smartphone.
Smart karaoke in smart home
Thanks to the open RESTful API EVOBOX is easily integrated into the smart home. After setup, you can turn on the system remotely or schedule it to turn on / off at a specific time.
*Such integration is supported thanks to the complex solutions by international brands Savant and Creston, as well as many other systems.
Parental control
You needn't worry about leaving your children along with EVOBOX. Activate "Parental control" and select one of the functions to switch it off:
Activate "Parental control" and select one of the functions to switch it off:
Purchase new songs
Display the songs with obscene lyrics
Change the karaoke system settings
Differences between karaoke systems
EVOBOX
Microphones
No
Uploaded songs
2000+
Video footage
No
Drive
120 GB
EVOBOX Plus
Microphones
Yes
Uploaded songs
Video footage
Yes
Drive
960 GB
At the same time they buy
Karaoke soundbar
1390 USD
Stereo system
1190 USD
Digital microphones
390 USD