The EVOBOX
Home Karaoke Machine
50+ love
songs for free
EVOBOX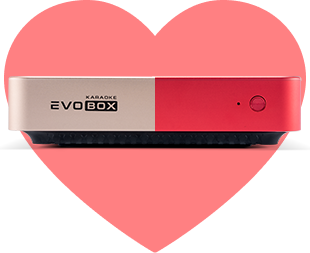 Dedicated to St. Valentine's Day.Buy and activitate system till Feb., 28 2021
In addition to classic black, we have added five more colors: silver, graphite, ocean, gold and ruby.
Choose the color of the device casing that best suits your lifestyle.
Awesome casing
The main part of the EVOBOX casing is made of aircraft aluminum — a special alloy that is widely used in the fields of aircraft building and space engineering.
The EVOBOX design is truly unique and impressive. The device's casing is made of a single block of anodized aluminum.

4K Karaoke
The professional karaoke system supporting HDMI 2.0 standard allows you to enjoy the most clear, sharp and rich images on the screen of your TV set.
The Ultra HD 4K 60FPS pictures will amaze you with their incredible realism and details.

LiveFX Karaoke
We have created a completely new sound effect for karaoke fans.
Our LiveFX is designed individually for each composition in order to create a full sensed-presence effect and relaxing performance environment.
Feel like a star singing on stage in front of thousands of your fans applauding and singing along with you.

Say goodbye to background noise
Since the EVOBOX home karaoke system uses SSD storage and passive cooling technology, it is the "silent ballet". It makes no background noises that could disturb you.

EVOBOX
Top karaoke hits
The karaoke system comes with 2 000 preloaded popular songs: 1 800 homegrown and 200 foreign hits.
In addition, you can download 100 SONGS FOR FREE from the Studio Evolution karaoke catalog.

EVOBOX Plus
Songs for any taste and mood
The EVOBOX Plus base contains 41 000+ studio-quality karaoke tracks. Many of the songs go with the official video clips. You can purchase any other songs from the karaoke catalog for 80,000+ songs for a single price.

Create your
own karaoke collection
If a pre-installed track base is not enough for you, you can purchase more karaoke songs at any time.
The Studio Evolution catalog is updated every week and includes tens of thousands of songs in fourteen languages ​​of the world.

Legal karaoke content
We cooperate with leading publishers and recording companies of the CIS and Europe.
Smart control
The EVOBOX karaoke machine is user-friendly and easy-to-control.
A brand-new Bluetooth remote with a full-sized keyboard and function keys will allow you to instantly understand all the settings of the karaoke system.
For gadget fans, we have developed special applications that allow controlling the EVOBOX system with a tablet or smartphone.

The EVOBOX set
The karaoke machine for home comes with the original branded packaging.
In addition to the standard box, it is completed with the transport one that prevents the karaoke device from damages during transportation.
Want to trade the best karaoke equipment?
Fill the form! Our partnership will be productive and mutually beneficial.
Post our karaoke equipment on your website or webstore.
Text and graphic information is available here