EVOBOX

home karaoke system
Базовая комплектация караоке-системы: лучшие хиты, уникальные эффекты, возможность подключения двух микрофонов.
Free shipping
Collect on delivery
A 12-month warranty
Songs for any taste and mood
2000
На момент покупки в караоке-системе находится 2 000 песен:
1 800 отечественных и 200 зарубежных.
+100
После активации системы у вас есть возможность в течение 90 дней загрузить бесплатно еще 100 любых песен из всего караоке-каталога Studio Evolution.
80 000+
Также вы можете приобрести по единой стоимости любые другие песни из полного караоке-каталога* Studio Evolution.
The Studio Evolution catalog is updated every week and includes 80,000+ songs in fourteen languages.
Legal karaoke content
We cooperate with the leading publishers and record companies of CIS and Europe.
List of copyright holders
4K Karaoke
Благодаря поддержке стандарта HDMI 2.0 вы можете наслаждаться максимально четким, контрастным и насыщенным изображением на экране своего ТВ.
Absolutely noiseless operation
Благодаря системе пассивного охлаждения и SSD-накопителю EVOBOX не перегревается и работает абсолютно бесшумно.
Extraterrestrial device body
Основная часть корпуса EVOBOX выполнена из авиационного алюминия — особого сплава, который используется в авиастроении и космической инженерии.
The aluminum part of the device is milled out from a solid bar of metal. The process lasts about 18 hours.
После фрезерования корпус проходит процесс анодирования — EVOBOX получает свой цвет с особым отливом и оксидную пленку, которая защищает его от царапин.
Your favorite color karaoke kit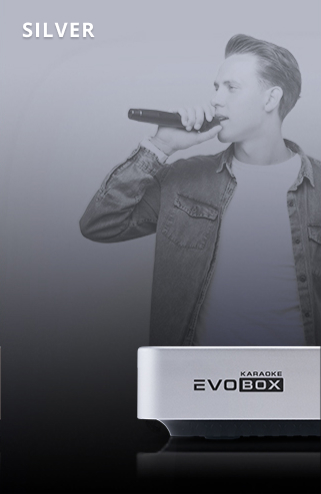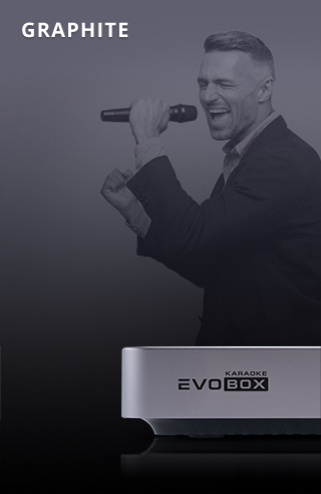 Feel like you are on the stage during the live show, with thousands of your fans applauding and singing along with you.
LiveFX karaoke
We created a brand new karaoke effect for singers. LiveFX designed for each track individually to deliver the presence effect and performance environment.
Listen to LiveFX
Simple and user-friendly
Bluetooth remote control
with a full-size keyboard and functional keys. It will take you just a few seconds to find a song and adjust a backtrack and microphone.
Share your performances
Record your performances in studio quality by pressing just one button. You can copy the records you saved to a USB drive or send them to your friends and family instantly from your smartphone.
Smart karaoke in smart home
EVOBOX с легкостью интегрируется в «умный дом» благодаря открытому RESTful API. После настройки вы сможете включать систему дистанционно или запланировать её включение/выключение на определенное время.
*Such integration is supported thanks to the complex solutions by international brands Savant and Creston, as well as many other systems.
Parental control
You needn't worry about leaving your children along with EVOBOX. Activate "Parental control" and select one of the functions to switch it off:
Activate "Parental control" and select one of the functions to switch it off:
Purchase new songs
Display the songs with obscene lyrics
Change the karaoke system settings
Differences between karaoke systems
EVOBOX
Microphones
No
Uploaded songs
2000+
Video footage
No
Drive
120 GB
EVOBOX Plus
Microphones
Yes
Uploaded songs
43 000+
Video footage
Yes
Drive
960 GB