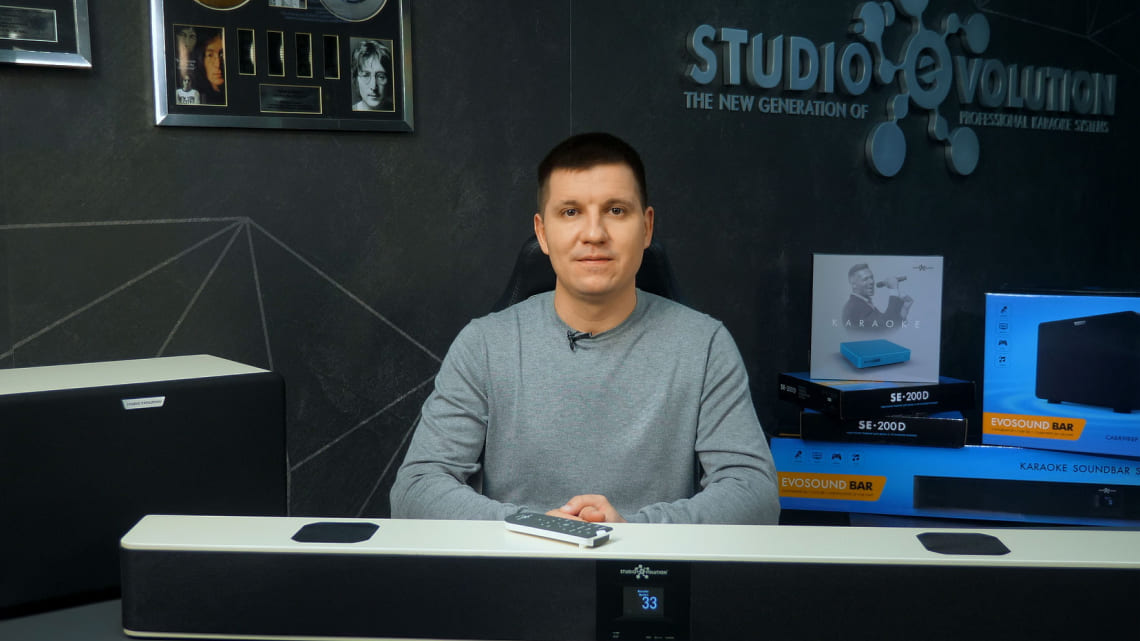 Video review
EvoSound Bar
Play video
450 W
of powerful, clear,
and rich sound.
The loudspeakers of the soundbar and subwoofer are designed especially for karaoke.
They easily cope with sudden drops and peak loading during live performance.
Connection via HDMI ARC
Enjoy clear rich sound while watching your favourite movies and TV shows on your TV with HDMI ARC technology.
* Subject to HDMI ARC support on your TV-set. Select "Transmit sound via HDMI (ARC)" in the audio setups.
Connect via Bluetooth®
Use Bluetooth® to connect your smartphone, tablet or TV to EvoSound Bar.
* Make sure your TV supports Bluetooth® protocol. The sound may delay. Is not recommended to use in "karaoke" mode.
It is convenient!
Connect any two devices (for instance, a karaoke system and IPTV-console) to the soundbar. Switch easily between the devices using EvoSound Bar remote control.
The soundbar is designed for video signal transmission in UHD 4K 60 Fps format.
Selection of a playback source
Easy to use and sleek
Secure the soundbar on the wall under the TV
using brackets, provided in the set
Properties
EvoSound Bar

Input sensitivity / input resistance: 400 mB / 47 кΩ
7-band equalizer: (57 Hz / 134 Hz / 400 Hz / 1 kHz/ 2.5 kHz / 6.3 kHz / 10 kHz) ±10 dB
Total harmonic distortion: equal or smaller than 1%
Frequency: 20 Hz ~ 20,000 Hz (± 2 dB)
Peak power demand: 550 W
Power voltage: 220 W, 50 Hz / 60 Hz
More information
Soundbar
Height: 107 mm
Length: 1210 mm
Width: 126 mm
The weight: 8,6 kg
Subwoofer
Height: 270 mm
Length: 385 mm
Width: 249 mm
The weight: 7,7 kg