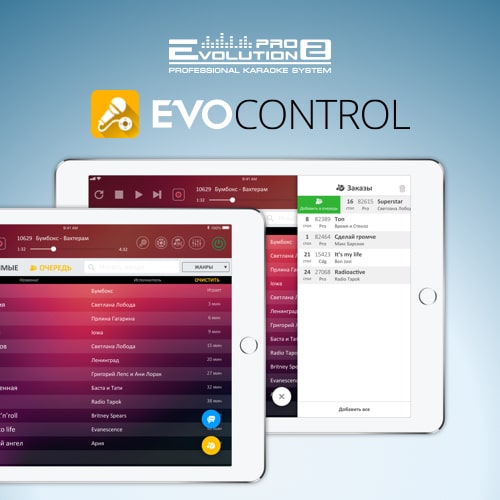 Control the Evolution Pro2 karaoke system on your tablet using the EvoControl app
The updated EvoControl app is a trustworthy assistant of your KJ.
Finally, you can control the karaoke system at your cool spot using a single application:
accept or reject song requests sent by clients via the EvoClub application;
add song requests yourself;
manage the playback queue and table numbering in the most efficient way;
record client performances in just one click;
create and edit playlists of favorite songs for regular clients;
change the tone and tempo of the songs, configure the effects and control all audio settings;
manage background music setting;
control your karaoke system in the single monitor mode;
set login and password to ensure secure access to the karaoke system;
chat with clients in real time.
Our free EvoControl app is ready to go and can be installed on your iPad in no time.